Welcome to La Vita
La Vita Dreams Guest House captures its true meaning – "Live your Dream". This luxurious guest house is situated in a quiet suburb in Vanderbijpark. You will feel at home in the tranquil garden and sparkling pool with birds singing in the background. La Vita Dreams guarantees the ultimate in gracious living.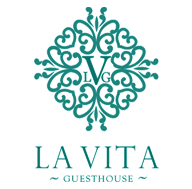 Photos
We take care of every detail...
Our Pricing
Children – Price on request (arrangements can be made for an extra bed/mattress)
No smoking in rooms
Check-out time: 9am
A deposit of 50% is payable once the booking is confirmed.
Cancellations: 50% of deposit is refundable 1 month prior to stay date. 25% of deposit is refundable 2 weeks prior to stay date. Deposit is non-refundable less than 2 weeks prior to stay date. If a stay date is moved to another date, no deposit is refundable if the date is cancelled under any circumstances.
During the COVID19 period, for longer stays, rooms will not be cleaned and no staff will enter the roooms.
Braai facilities are available and children can have endless hours of fun on the Jungle Gym and sandpit.
Ben Venuto, Speranzo & Sogno
Double Bed
En-Suite Bathroom
Luxurious Bath (Ben Veneto)
Shower (Speranzo & Sogno)
Complimentary Tea & Coffee
Mini Fridge & Microwave
Air Conditioning
Fresh Towels & Linen
Private Entrance
Secure Parking
Breakfast @ R80pp
Queen Size Bed
En-Suite Bathroom
Bath & Shower
Complimentary Tea & Coffee
Mini Fridge & Microwave
Air Conditioning
Fresh Towels & Linen
Private Entrance
Secure Parking
Breakfast @ R80pp
Credanza (Honeymoon/ Executive suite)
R750
R1100 p/u (2 Adults)
Queen Size Bed
En-Suite Bathroom
Bath & Shower
Complimentary Tea & Coffee
Mini Fridge & Microwave
Air Conditioning
Fresh Towels & Linen
Private Entrance
Secure Parking
Breakfast @ R80pp
THE ONLY GUESTHOUSE THAT CAN ACCOMMODATE AN ENTIRE GROUP OF PEOPLE, SAM AND ANNELISE ARE VERY SWEET, VERY PROFESSIONAL AND THE ACCOMMODATION IS VERY COZY, IT FEELS LIKE A PEACEFUL HOME AWAY FROM HOME
Keagan Kinnear
EXCELLENT PLACE TO STAY WITH GREAT SERVICE
Mamsi
BEAUTIFUL PLACE TO STAY WITH FRIENDLY PEOPLE
Linda Venter